Moovies - The DVD Edition
Some years back, I ran a subscription email list for movie reviews. At one time, I had about 600 subscribers. Granted, not that many by today's standards, but enough feedback to keep me going back to the movies every week - on my own dime. Enough time has passed that this information is really only useful if you're tracking down DVDs to watch. In that case, have at it.

Powered by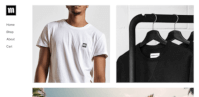 Create your own unique website with customizable templates.