About Bud
My name is Bud Simpson.
No one is actually named Bud, but if your name was Orville . . .
I am not an expert on most things technical, but rather a high-functioning user. How something works is way less important than how I can use it to my advantage. Everything is a tool.
My background is in commercial photography, mainly in catalog production, products, corporate and annual reports.
​I came to photography as the son of snap-shooting parents, and with the help of a couple of good friends and a lot of hard work, I was able to make a comfortable living photographing cans, bottles and the occasional corporate brass hat. I learned my chops shooting color transparency film in all formats, and have adapted that level of craft to shooting digitally.
Bud Simpson travels the country and provides:
Photography – Commercial, Portrait, and Fine Art
Photography Training - From Basic Point and Shoot to View Camera
Imaging Workflow and Photoshop Consulting
Ideas, Consulting and Creative Writing
Since 1976
---
Powered by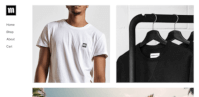 Create your own unique website with customizable templates.